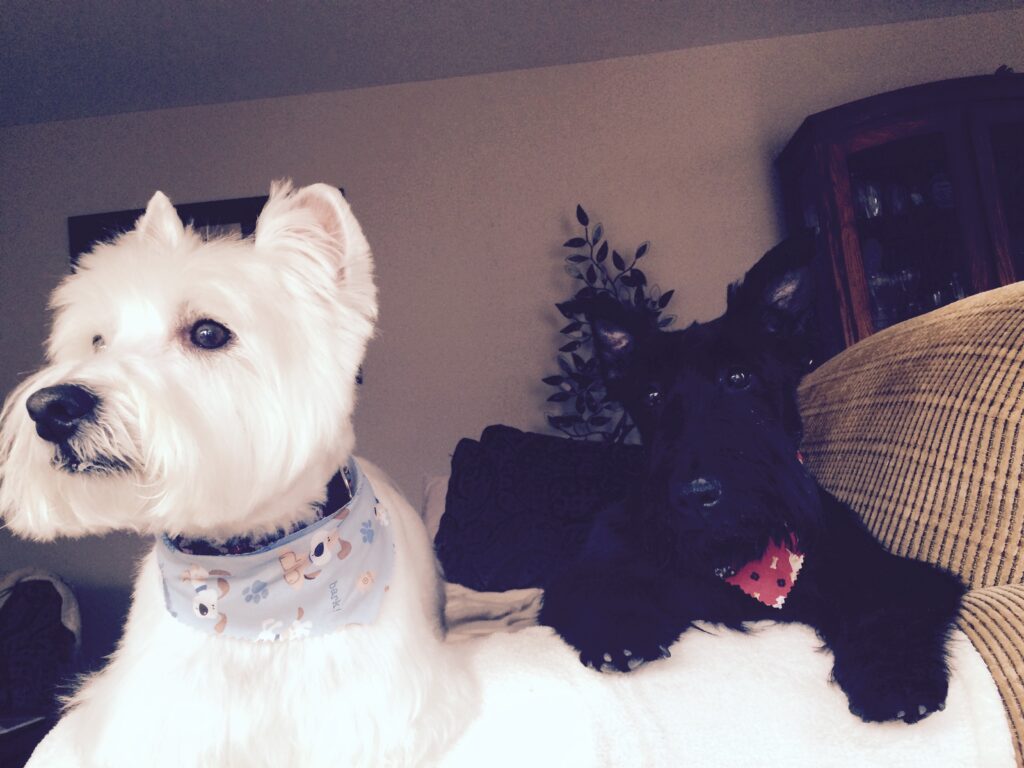 Hello, Sher!  I saw on Facebook that you ask that we tell you our story.  So here is ours:
"After losing one of our two Westies in 2008 we were looking for a partner for our remaining one.  Fate had it that no Westies were available anywhere and we came across a Scottie named Tucker, listed on Petfinder by Scotty Rescue.  Tucker was fortunate to be fostered at the time by none other than House with a Heart!  When we came to your home and met Tucker, you were surprised by how he reacted to me.  He was a rescued breeding dog, never socialized, extremely shy, fearful, and had been physically abused.  You had tears in your eyes when you saw how he started following me around, and you assured us that even though there were other appointments to meet Tucker, he should be mine.  Tucker became Pepper (Peppie) and part of our family.  We were not exactly prepared for the challenges of adopting an older and abused animal, but the rewards were priceless.  He was three years old at the time and housebreaking seemed impossible.  He never quite got it.  He ate everything he could get his mouth on, from small toys to shoes, pillows, furniture, gloves, socks, etc.  Twice in the first six months he needed surgery for bowel obstructions. By then HE taught US to keep the house meticulously picked up and tidy 🙂
Peppie slowly learned to be a dog and part of a pack — our Westie showed him how!  They became best buddies.  We called Peppie the "wingman" because he followed the Westie everywhere.  He also learned to accept affection from us.  Getting petted and scratched, sitting with us on the couch… he learned and craved being loved.  And we did love our little guy so much.  Every step was a victory.  Then came a surgery to remove liver tumors, but he recovered nicely.  When he was six years old he was diagnosed with Cushing's disease.  Life expectancy was 2 – 3 years.  We did all we could, and it was very hard to see him battle this illness, but he made it to 11.  It was a sad day when we had to let him go.  We still get tears in our eyes when we think of our brave little Peppie who was dealt such a bad hand with first the abuse, the surgeries, and then that awful sickness.  As hard as it was, we never once regretted adopting him.  The rewards were wonderful, and he had a good life for as long as was possible.
Dogs are incredible, loving creatures who deserve to be taken care of and loved as they give us so much in return.  I cannot thank you enough for what you do, Sher.  You are an amazing person with an amazing mission.  I admire you greatly.  And thanks for fostering Tucker who became our Pepper in 2008.  I've supported your work ever since and will continue to do so.
Best wishes and many blessings!
Christine Cooper"