Since House with a Heart opened its door in 2006, we have said good-bye to seventy-one of our cherished residents. They will always remain in our hearts and we are eternally grateful for the time we had them in our lives. We find comfort in knowing we fulfilled our mission by providing them all with a loving home for the last years of their lives.  On this page we Honor some of these special friends.
Sugar – Memorial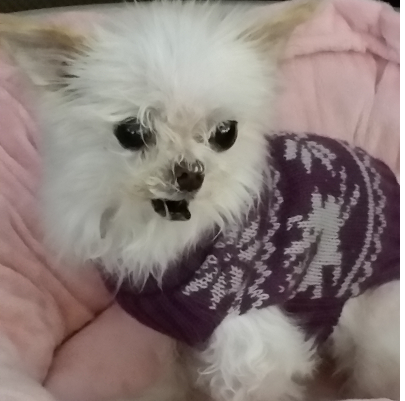 Our sweet Sugar crossed the Rainbow Bridge in February of 2016. This fifteen-year old, four-pound Mi-Ki stole our hearts from day one. Her fur was as soft as a rabbit's and her dark eyes were so big and bright. She had lost her bottom jaw to the ravages of dental disease and she always looked like she was smiling, the tip of her tongue peeking through. She never made a sound, but certainly was adept at letting her wishes be known. If she didn't want to be bothered, her toothless mouth would try to nip your finger and, when it was breakfast or dinner time she would act like a crazy girl. You just couldn't help but smile at this tiny clown.
Tragically, Sugar's health had been in a steady decline. All of her systems were failing and we knew it was her time. One of our very dedicated volunteers, France, who was very bonded to Sugar asked if she could take her special friend to the vet one final time. She asked that she be permitted to take Sugar alone. And there Frances bid farewell to the little dog she loved so well.
Farewell, Master, yet not farewell.
Where I go, ye too shall dwell.
I am gone, before your face, A moment's time, a little space.
When ye come where I have stepped, Ye will wonder why ye wept.