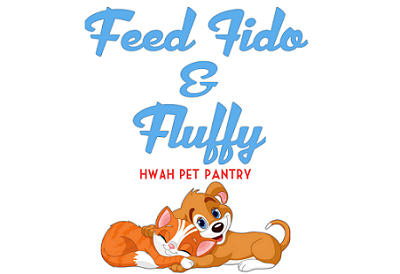 The "Feed Fido and Fluffy" Pet Pantry was launched in April of 2020, and we are amazed at the continued support for this program.
While many people are still in need during this pandemic, the same goes for some animals. House with a Heart Senior Pet Sanctuary in Gaithersburg continues our pet pantry so that animals can also have something to eat.
Many of the food banks that House with a Heart has partnered with do not include pet food in their delivery, which means sometimes people have to share their food or their pets may go hungry.
We partner with local food banks and we continue to support and help our local Low-cost Senior and Disabled Independent Living Facilities!!
Our Feed Fido and Fluffy – HWAH Pet Pantry continues to help so many in need thanks to your continued support!!  I honestly thought this would be a project that might be short lived but WOW, was I ever wrong!!!  Our supporters are constantly dropping off food and supplies at the Sanctuary, sometimes used items to Honor a pet that has passed, also purchasing needed supplies through our Amazon Wish List and gift cards from Chewy.com. 
With the funds that YOU donate we are able to purchase pet food for the seniors in a subsidized housing community in our county, provide food and supplies for the clients of the non-profit – EveryMind.org., offer bedding, food, supplements, and other supplies to partner rescues and those in need, and even give a helping hand from time to time to individual families in need who cry out for help.