From Forever Hospice at HWAH to Forever Home with Dr Michelle
Lady, a 10 pound 15-year-old Schnoodle was without a home when her owner died. Petconnect Rescue accepted Lady and asked HWAH to bring her into the HWAH Buster's Buddy Program as a Hospice Foster. Lady has a heart condition and digestive challenges, which were addressed with Medical Specialists and she began enjoying her life at HWAH with her pack mates and loving volunteers. We were happy being her hospice.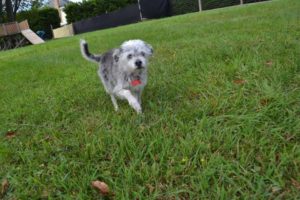 And then the unexpected happened:
A new volunteer fell in love with her and has now adopted her. She was sooo incredibly excited to have her in her home. Lori did the home visit and they were perfect for Lady
Here is the story of her trip to her new home:
"Oh my goodness!!! She did great in the car. Once we got out of the car her tail started wagging and she walked around the front yard and peed. When we went inside, Dr Michelle's 2 other dogs came running up. They all 'said hello'..Grace the larger dog barked at us for awhile, kinda of like when Lori's Bear barks. But once she got used to us, she was sooo friendly. Very well behaved and so sweet.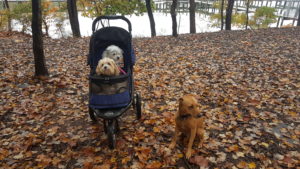 All three dogs were getting to know each other. Lady's tail was wagging away! She went up to Dr Michelle's husband for some pets. Their house is BEAUTIFUL! Brand new. Open floor plan. No hazards. Dogs have plenty of beds, water. Pipsqueak is the smaller one and just had knee surgery. He was soooo cute. Lady was very happy when we were there and Dr Michelle is so incredibly happy to have Lady" by Lori W
They love her sooo much! And have been bugging HWAH to make sure that Lady is now theirs. Their Christmas pic of her melted our hearts. We love dogs that snuggle. Lady has found her home. She's the one laying her head on the other pups belly.
Please follow and like us: