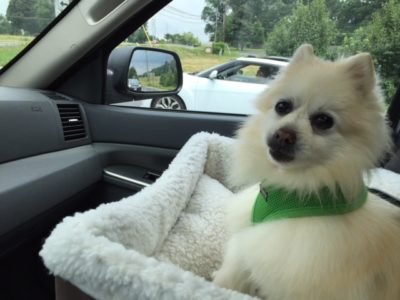 At House with a Heart, one of our greatest expenses is medical care for our special needs and senior dogs/cats.  A lot of folks have seen various online posts/blogs and videos where we talk about how much the medical expense can be over time for any given resident.
And I imagine some folks are thinking – "how could you possibly spend that much money?"   or "I know this may sound horrible but those dogs are going to a nice place to die so why are they spending so much money for medications and surgeries"?
In truth, over the life of senior or special needs dog, the totals can run from $$ 4,000 to $$ 44,000.  For House with a Heart, where the starter age for most residents is in the ten to twelve year old range, right away we may need to provide regular medication to keep the senior or special needs dog in good health.
And to get the right medication, we start with Vet Care.  Just like human medical care, there is routine and specialty care needed for each and every HWAH resident.  And just like humans, it's not the same for any one resident.
But – without the support of our donors, supporters, and grants as well as our own short term care boarding, we might not be able to care for as many senior and special needs dogs as we have been able to over the years.  In the early days, we had a payment plan with the Vet just to get by.  So – not everyone who chooses a senior or special needs pet can always have the same medical choices we have been able to provide our residents.
Marzipan was an example of a slow and steady medical expense, but nothing over the top until the end.
Over the 4 years we were able to track her medical expense, approximately $ 20,000 was for daily medication to treat an airways disease, heartworm, and other aliments brought on by her origins in a puppy mill.  She needed surgery almost immediately to remove three tumors and bad teeth. We used Expensify to start putting together better expense reports for our insurance reporting, and found it astonishing at how quickly the expenses were totting up.
Because of her beginnings she suffered from upper respiratory disease and had to use an inhaler several times a day….she was a HWAH pup who took SO many medications but she was always happy and willing. She had several visits to the ER in oxygen but she always pulled through. We were devastated when she finally was unable to make a recovery.
Here is her story: (excerpted from previous blogs and posts)
"Marzipan was a beautiful girl who beat the odds many times. When she arrived at House with a Heart, she was suffering from heartworm and was weak and debilitated; she fought off the effects and grew a gorgeous, fluffy blonde coat to go with her spirited and mischievous personality. In addition to her chronic heart and lung problems, she also survived a severe case of pancreatitis. She took handfuls of medications every day but seemingly refused to acknowledge that there was anything wrong with her. She played like a puppy and loved to run around in the yard with Monroe."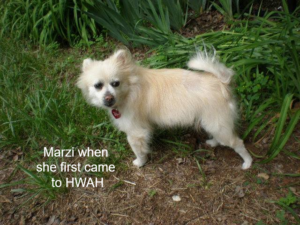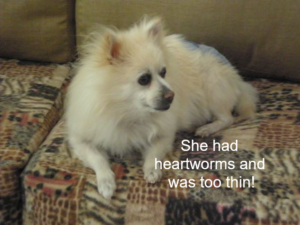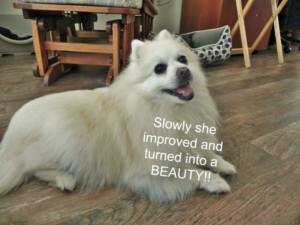 July 2014 –Vet Bill:  $$ 4,400
"Please keep our sweet Marzi (Marzipan) in your thoughts and prayers. Mama Harriette took Marzi to the emergency vet this afternoon because she is having trouble breathing. She was diagnosed with fluid in her lungs and around her heart, and she is in the oxygen enclosure and receiving IV Lasix. She will see the cardiologist tomorrow and we should know more then. We will keep you posted with her condition".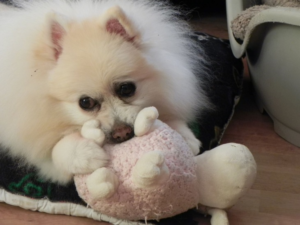 January 2016 –  Vet Bill:  $$ 6,700
"Marzi went into the ICU at VCA on Friday, January 8th with complications from her Airway disease.  She has been struggling and has been in the Oxygen kennel since her arrival at VCA.  For 3 days we thought we would have to let her go, but she would show just enough spunk to make us hesitate.  Visits from many of her admirers, and especially from her favorite person Susan, helped to keep her spirits up.
Now she is finally down to only 30% oxygen instead of 50%.  Wendy supplied her with her favorite liver treats and Harriette and Susan also visited with her.  Yesterday, Frances made her some chicken which she ate with gusto after many days of not eating.  She even poked her head out of the oxygen to look for more chicken!"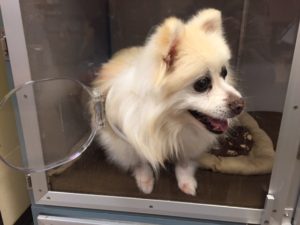 And the end of the story…  June 2016
"Reaching through the porthole, I stroked Marzi gently as she lay on her side. This was not the bossy, feisty dog I loved, the one who spun in circles and dashed back and forth through the living room and kitchen when I arrived because she was so happy to see me. I teared up, dreading the loss that lay ahead.
While the tears flowed, the woman who was visiting the cat in the oxygen chamber below Marzi's patted me on the shoulder and reminded me to love them while they're here and wait to grieve for them after they're gone.
That was really good advice. Marzi perked up a bit when I offered her some of her favorite treats and was sitting up by the time I left for the day. She beat the odds, and was back home at House with a Heart within a few days, spirit and feistiness intact.
Last Sunday, about six months after that previous hospitalization, there we were again. Marzi began panting heavily and coughing up blood. This time, her condition was simply too grave. Frances and I were with her when the vet administered the euthanasia drugs.
I am so thankful that we all had six more months with Marzi after her January illness. I'm grateful that she knew I was there with her at the end. And I feel honored that she thought of me as her girl, just as she was my girl. Marzi lived a life filled with fun and love, she was bright and sparky and joyful, bossy and silly, and just a little bit naughty, and I will love and remember her always".
So, when people ask us, how can you spend that much money on a special needs or senior dog, it's not a really an all at once choice. As each medical issue comes up, you ask for the best advice you can get, make an informed judgment, and always, always consider the pain and suffering the treatment may cause the dog.
Over the years at HWAH, we have become more and more conscious of looking at the next steps down the road for the dog, and asking "is the treatment to improve their life or just prolong it?"  It is very difficult to make the hard choices when a beloved dog such as Marzi is taken for treatment, and recovers.
Everyone begins to hope each treatment will be another way to give them more time with the beloved pet.  But at some point, it's not about just keeping them around; it's about will they honestly improve with this or that treatment?  And ultimately, are they suffering?
At House with a Heart, we are not afraid to ask for monetary support when we have made an informed decision about care for one of our Special Needs or Senior Residents.    But we always do so with the knowledge that when the time comes to let them go, it is not about the money, it is about them.  Letting go is also a part of "Love Lives Here."
Please follow and like us: