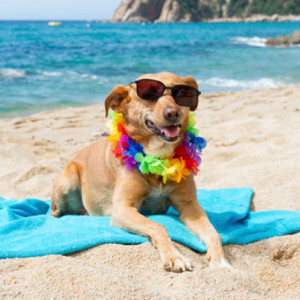 The holidays are fast approaching. Time to hit the road to visit friends and family. Your shopping list is ready to go and your plans are set.
Sure, all this trip planning is fun, but it can be stressful, too. And if you think it's stressful…your pet agrees.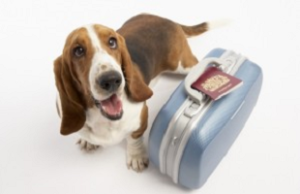 Whether it's a short road trip or extended holiday, it's important to start planning now for your pets.
So, what are your options?
If you plan to bring your pet along:
Make sure you prepare your pet's travel bags, too. Making a list and checking it twice will alleviate the unnecessary stress of not being prepared once you reach your destination. Don't assume, during the holidays, that you'll be able to run to the store to pick up whatever you forgot. Here are some things to put on you list:
Make sure to bring along all medical records and proof of vaccinations.
Pack extra food and water bottles.
Bring your vet info and phone numbers.
Have your microchip info and number handy.
Know the closest emergency vet to where you're staying.
Bring familiar items like a dog bed, blanket and toy or get some new toys from an online pet store.
Consider a pet friendly hotel for you and your pet.
More and more hotels are offering pet friendly accommodations. Bring Fido has a listing of pet friendly hotels, by state, check out this link. Even after your reservations are made, always call ahead and let the hotel know you're traveling with your pet. Check out: Bring Fido Lodging
It's best to avoid air travel with your dog, especially in the cargo area of a plane. It's dangerous and very stressful for you and your pet. If you have no choice and find yourself traveling by plane, check out these tips from the ASPCA: Travel Safe Tips
And what if you're the proud parent of a senior pet?
Your senior requires more planning. The Humane Society suggests you talk to your veterinarian at your local Houston vet hospital if you have any doubts about whether or not it's appropriate to travel with your pet. Make sure your animal is up to date on all vaccinations and in good health before you leave. And consider a medical exam, well in advance, to make sure your pet gets the thumbs up to travel. Some vets might prescribe a sedative or tranquilizer for the trip. *Make sure to never give your pet a drug not prescribed by a veterinarian.
If you plan to leave your pet at home:
Of course, it's hard to find a reliable friend or family member to watch your pets at holiday time, since most of them are doing what you're doing, traveling to visit friends and family. So, consider a professional pet sitter while you're away. While it's more costly than bringing them along, the peace of mind knowing your pet is snuggled safely at home in their bed, will leave you to enjoy your holiday and have one less thing to worry about. While a professional pet sitter might be the best solution, if it's your first time, here are some important things to consider:
It's best to get a referral from friends or family.
Always, always, always check references.
Make sure they're experienced with animals.
Leave them with your vet contact info and emergency numbers.
Look for a sitter that has emergency first aid training.
Find someone who is insured and bonded.
Make them aware of your pet's routine with feeding, walking and sleep times and ask them to keep to that schedule as best as possible.
Ask your sitter to send daily updates and pics of your furry friend.
What if your dog has special needs, is nervous or has anxiety around unfamiliar people, or is hyperactive and needs a lot more attention than what a sitter can give? Boarding at your local kennel or veterinarian is probably your best bet.
Don't forget to pick up a little souvenir for your pet while on your travels! Furthermore, if you're a dog owner who likes to treat your pooch to all the latest accessories and toys, then head to thegoodypet.com for some inspiration on what to purchase for your furry companion next.
It's the holidays! Stores might be closed. Hotels could be full. The most important thing is to plan ahead so you're not caught unprepared. And most of all…enjoy your trip!
Please follow and like us: