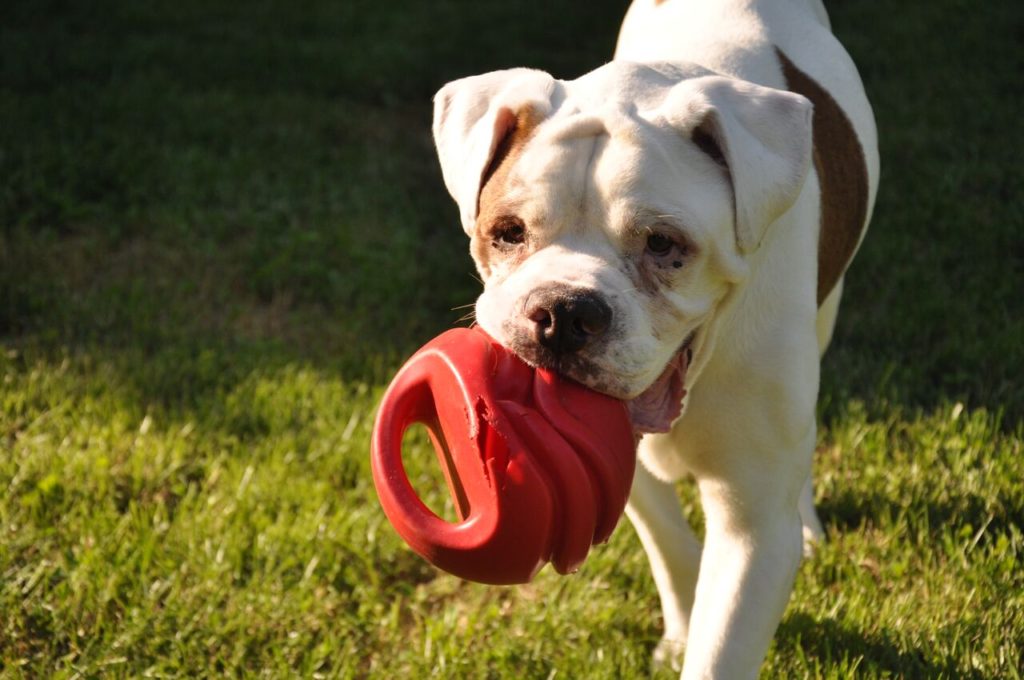 Rocky's full story ………………….
2018 has been another amazing year at HWAH.  We are now in our 12th official year as a non-profit caring for Seriously Senior and Special needs dogs and cats.  With your continued support we have been able to save 12 seniors this past year through our K-9 Medical Miracle Fund and working with our Rescue partners.
One such collaboration with Pet Connect Rescue was Rocky.  A rescue story that played out over many months. 
We had been copied on several emails letting the Rescue community know about Rocky who was being held by a nearby Animal Shelter.  The Shelter was looking for a Hospice placement for 15-year-old Rocky.  Rocky's situation was really dire.  He had been confiscated as an abuse neglect case by Animal Control.  A large American Bulldog who should have weighed over 60 pounds was just a mere 44 pounds and had difficulty standing as his muscles were so atrophied.  He looked like a skeleton and even the toughest who looked at him was moved to tears.
One of our Rescue Partners, Pet Connect also saw the post and Randi touched base with us to see if they pulled Rocky from the shelter could he hang out with us at HWAH since he was a Hospice case and likely would not live much longer.  Of course, we said yes and Rocky arrived at the Sanctuary.
We were all a bit surprised when we met Rocky as he surely did not seem to be 15 years old and we were hopeful that he might be younger and that we would be successful in nursing him back to health and even finding him a Forever Home.
Our incredible volunteers jumped into action, Rocky was transported back and forth to Kentlands Vet almost weekly to see Dr. Handel for check-ups and weigh-ins.  He had Guardian Angels who loved on him, took him for short walks, brushed him and made sure he got lots of treats.  Once he had gained a bit of weight he had to undergo several surgeries.  He needed to be neutered, he had an anal tumor that needed to be removed, he even required surgery on both eyes for a condition called Entropion.
Rocky went through all of his surgeries at once and came back to the Sanctuary to recover.  He spent some time at the Sanctuary during his recovery time and also stayed with his favorite volunteer, Lisa at her home for some one on one care and attention.  Once Lisa got him over the hardest part of his recovery he returned to the Sanctuary to continue his convalescence. 
We thought we were over the hump and Rocky was well on the road to recovery when he woke up one morning and one of his eyes was droopy.  It looked terrible but he didn't seem bothered by it.  Dr. Handel diagnosed it as Horner's Syndrome which COULD be caused by an ear infection or cancer or some problem anywhere from his brain to his spine…. OR it could just be for no known reason and would resolve itself in 16 weeks to 6 months.  We opted to believe it was an ear infection or an idiopathic condition and would get better.  Our positive attitude was soon put to the test!! 
Late one evening while outside for his last pottie break of the day Rocky collapsed and simply could not stand up.  I was in tears trying to get him back in the house.  He had gained weight and was about 50 pounds and at this moment he was a stressed anxious pup and I could not get him up the stairs.  Finally, I got him moved onto a large rug and I managed to drag him to the front of the sanctuary and up the ramp and into his area in the foyer.  I called Frances in tears and we planned to get help in the morning to get him into the car and to the Doctor.  The following morning several volunteers arrived and we moved Rocky onto a stretcher and got him into the back of Frances' car and off to see Dr. Handel AGAIN!!
Dr. Handel was now concerned that Rocky could potentially have a brain tumor indicated with the Horner's Syndrome,  but felt it more likely he may have pulled or torn the muscles in his groin.  The only way to know for sure was to have an MRI.  We immediately made an appointment and off he went to the Specialist.  I have to say through all of this Rocky was always a trooper, kind, calm and compliant with whatever was being done for him.  The MRI determined that there was no brain tumor and Dr. Handel had called it right – Rocky had somehow damaged his groin muscles and for several days we had to help him walk with a supportive harness.  In typical Rocky fashion he quickly recovered and after a few short days no longer needed help walking. 
To make sure Rocky continued improving we signed him up for PT treatments with Jess at the Kentland Vet Hospital.  He had PT, massage and laser treatments.  Frances was transporting Rocky back and forth to the Vet for his checkups and PT so often that Lori, our Asst. Director ordered a sign for her car – HWAH – Medical Transport!!!  After 10 sessions Rocky was much improved and on his last day he arrived back at the Sanctuary with a message from Dr. Handel!!!  Rocky needs to lose 3 pounds!!!  He is now overweight at 78 pounds!!  Woohoo – that was the best news EVER!!!
Through all of this we did decide that Rocky is likely a senior somewhere between 10 to 12 years old and we will keep him here with us to be loved by his many fans and his Guardian Angels, Lisa and Marianne.
The costs for Rocky's continued care is now at $ 8,500  Without the support of our HWAH Friends and Family Rocky's story would not have such a happy ending.
Please follow and like us: