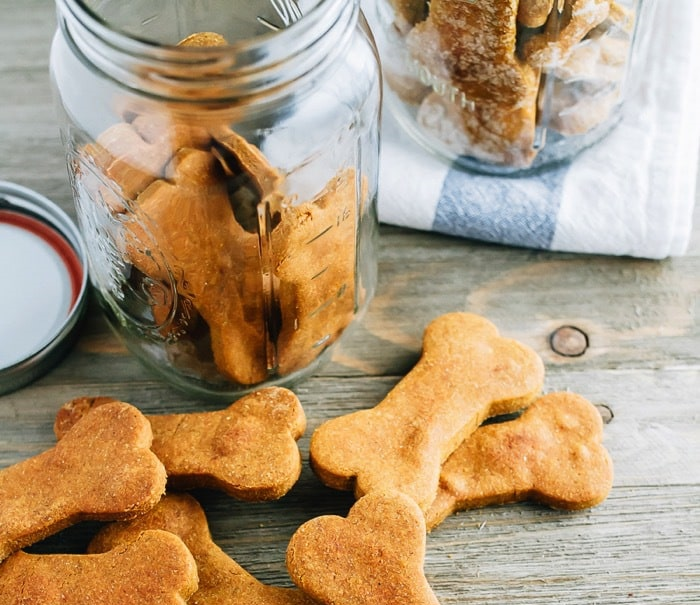 Pumpkin Treats for Dogs
Recipe Ingredients:
½ cup Natural Peanut Butter, no sugar added
1 cup 100% Pure Pumpkin Puree, canned
½ tsp Cinnamon
1 ¾ cups Oat Flour
From Frances: My notes on the ingredients: I use Jif Creamy Peanut Butter. Just be sure the peanut butter you use does not contain xylitol, which is toxic to dogs. I use Whole Wheat Flour rather than Oat Flour.
Recipe Directions:
Preheat the oven to 350 degrees Fahrenheit and line a cookie sheet with parchment paper.
In a large bowl, stir together the peanut butter, pumpkin, and cinnamon.
Stir in the flour ¼ cup at a time (when all the flour is added, you should be able to knead the dough without it sticking… if it is sticky, just add more flour).
Roll the dough out between two sheets of parchment paper or Silpats until ¼ in. thick. Use the cookie cutter of your choice to cut out the dough, then place on the prepared pan about 1" apart.
Bake about 5 minutes for soft treats. Slide the parchment paper off the pan and onto the counter and let cool completely.
Store treats in a seal-able jar in the fridge.
From Frances: My notes on the directions: Using a mixer with a dough hook makes incorporating the flour with the wet ingredients MUCH easier. I cut the rolled-out dough into 1" squares. There is no need to place them 1" apart on the cookie sheet. I place the squares right next to each other because they don't spread.
I double the recipe each week and divide the dough into two parts before rolling.
Note from HWAH:
Note that these are meant to be treats and not a dog food replacement. Although there is some nutritional value in these they should still be given only as a little treat during their regular diet.