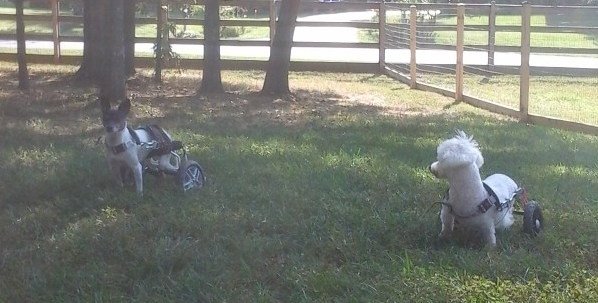 House with a Heart has had several dogs with medical conditions that eventually resulted in the loss of the use of their back legs for walking….a wonderful rescue named Little Blake, Vickie Mia, gone but not forgotten, and Happy….
It is never easy to watch your dog get older and often times people feel powerless because they are not sure how to help. In the past when a dog lost their mobility the common decision was to euthanize. People felt that the quality of life for their dog was so compromised that letting them go was the only way to provide them with relief. Now there are options.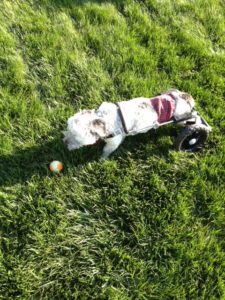 "When I was first volunteering at HWAH, Pam, Happy's special friend, would take Happy for a walk and I would walk along with Logan.  It was amazing how fast Happy could run in his cart – so impressive. He didn't feel handicapped.  Soon afterwards, I adopted a little rescue dog I met at HWAH, Little Blake, who could walk a little at first but soon his back legs no longer could hold him up.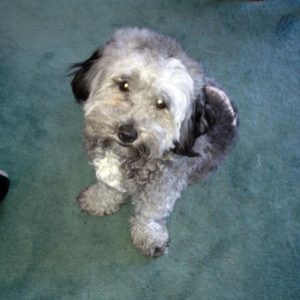 I knew from watching Happy's experience what a cart could do so one was ordered for Little Blake by the rehab therapist working with him. I will never forget how happy he was on his first walk with his wheels.  If someone went by on a bike or skateboard he would try to outrun them, with only me holding him back.  He loved that cart and every single walk.  He didn't feel handicapped, either". as told by our HWAH Volunteer Frances
Despite their existence for the past 40 years or more many people are still in the dark about the life changing power that comes with a dog wheelchair. While there are dog wheelchairs (also called dog carts) for just about every type of mobility issue, the most common type is the 2 wheel cart for dogs suffering from rear legs problems. The extent of the rear leg issues can range from some mobility to complete rear leg paralysis.
Vickie had been adopted from a vendor at Miami International Airport who had found her wandering there.  Her new parents brought her home and loved her, and when Vickie was disabled by a fall down the stairs, they did everything they could, including surgery to make her well.  But it was not meant to be.  When their full-time employment precluded them from giving her the care she needed, Vickie became a Sanctuary resident. Once at the sanctuary, we were able to provide her with a wheelie cart, which made her mobile again for a little while…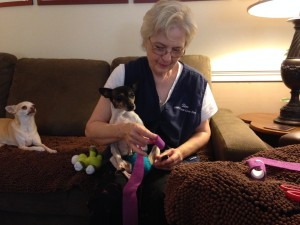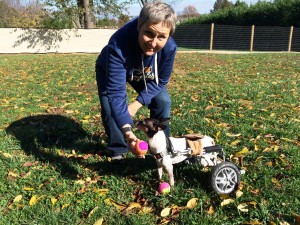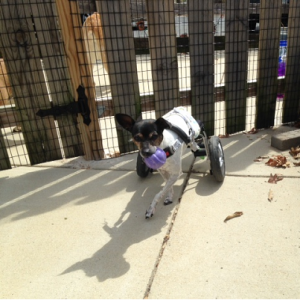 Your dog must be able to walk strongly on its front legs, with its back held in a level position. You can test this out with a simple "towel test" to make sure your dog is comfortable propelling him or herself with their front legs. If you have a small dog you can take an old towel, cut two holes in it, and place the legs through the holes. Remembering to keep the back level, see if your dog will walk normally. This action simulates the cart support system. If you have a large dog, a towel under each hind leg is an easier way to do the "towel test".
Your dog needs to have enough spirit to want to be mobile again. Attitude is a huge factor in the success of a dog and their wheelchair. Is your dog bright, alert and full of life despite their mobility challenges?  If your dog has the will then you are halfway there.
Our boy, Happy, is true to his name. This jovial and bouncy Bichon Frise enjoys every minute of his life, despite the fact that he's lost the use of his back legs. Unfortunately, neurological consults and physical therapy confirmed that his condition can't be corrected. But Happy doesn't let it stop him! He can run races in his "doggie wheels," and make his way around the Sanctuary on his own. Happy sleeps in his own crib and loves to be cuddled by his favorite people. His former family loved him and still visits him occasionally, but just couldn't handle the demands of caring for a pup who did not have the use of his back legs any longer.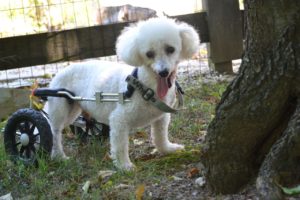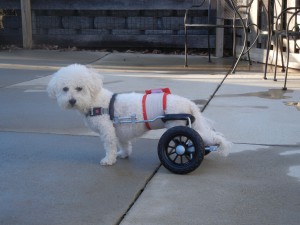 Just because your dog has lost the use of his or her rear legs, it doesn't mean that they can't enjoy life. It doesn't matter how tiny or how big your dog is, or whether you go with a custom cart or prefer something adjustable, there is a dog wheelchair to suit your needs.