This is the story of how Buddy, a transplant from NC came to House with a Heart…
Buddy, an elderly poodle entered our lives at HWAH after he endured quite a journey from a location in the south.  Several crates full of kitties were transported to a cat rescue in Baltimore, MD.   Imagine their surprise when a little white poodle came out of the back of a crate with some kitties.  
We got the call he needed help.  
"The rescue dropped him off at my work since I was closer to her. He was frightened and filthy and it took awhile for him to come out of the crate. We coaxed him out with treats. When he finally came out, I put a leash on him and walked him to my office. He immediately realized I was there to help. He would hide behind me when people would come in my office. But would then come out to get pets…." (Lori)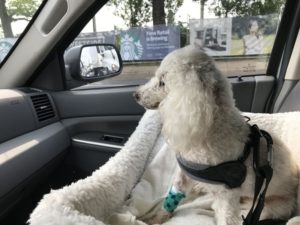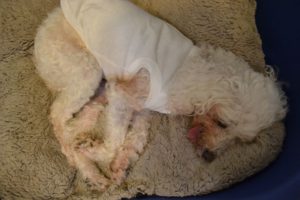 Buddy arrived a matted, smelly, painful mess.   Buddy had a broken jaw and terribly infected mouth and several uncomfortable growths on his leg.  After Dental surgery and surgery to remove the growths, and lots of loving to show him he could trust us he has blossomed into a sweet addition to the HWAH Family. His tail was wagging and he was going up to everyone for some love. He is the sweetest guy. We named him Buddy, because he is everyone's buddy.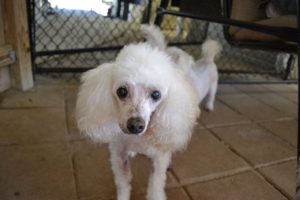 "I think one of the things that has happened with Buddy is that he has always been worried about people reaching out to pet or touch him…one would have to assume that he has been struck or frightened in some way….he would always duck and cower but with time he is more and more understanding that we are not going to hurt him. He now loves to be petted, and most especially to snuggle and to rub his face against you or in the blankets". (Sher)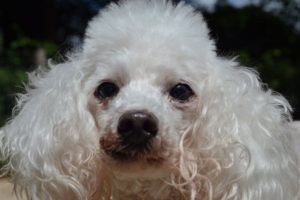 "Buddy has spent a couple weekends with me and he just loves to snuggle on the couch with us. He enjoys following Bear and Poppy around" (Lori)