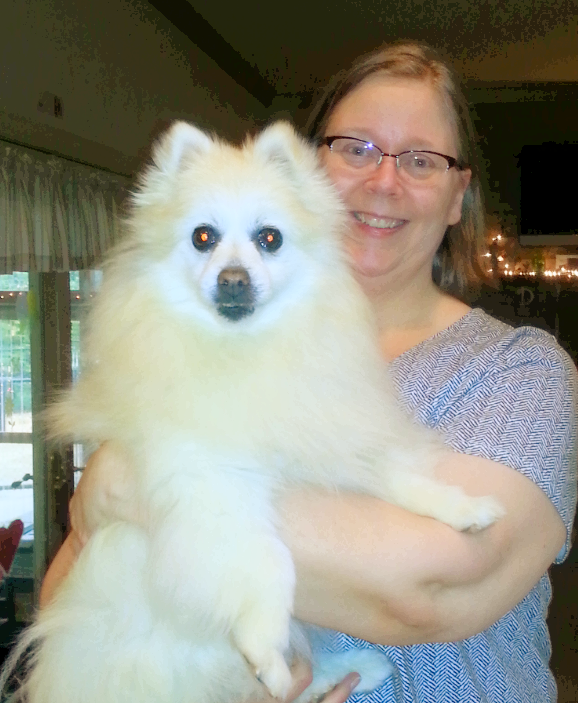 Told by Susan: On a cold Sunday in January of 2016, I stood in front of the oxygen chamber in the Critical Care Unit at Veterinary Referral Associates, watching Marzi pant as she tried to get enough air. Sher had asked me to visit Marzi to see what I thought. Was it time to say goodbye?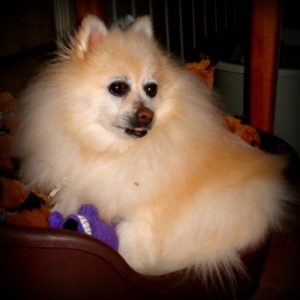 That was really good advice. Marzi perked up a bit when I offered her some of her favorite treats and was sitting up by the time I left for the day. She beat the odds, and was back home at House With a Heart within a few days, spirit and feistiness intact.
Sunday June 21st 2016
About six months after that previous hospitalization, there we were again. Marzi began panting heavily and coughing up blood. This time, her condition was simply too grave. Frances and I were with her when the vet administered the euthanasia drugs.
Marzipan was a beautiful girl who beat the odds many times. When she arrived at House With a Heart, she was suffering from heartworm and was weak and debilitated; she fought off the effects and grew a gorgeous, fluffy blonde coat to go with her spirited and mischievous personality. In addition to her chronic heart and lung problems, she also survived a severe case of pancreatitis. She took handfuls of medications every day but seemingly refused to acknowledge that there was anything wrong with her. She played like a puppy and loved to run around in the yard with Monroe.
Marzi and I didn't necessarily start out to be best friends when I first began volunteering at HWAH five years ago. But I quickly realized that she was smart, funny, sweet, a wee bit obnoxious, and quite a diva. She loved to grab a stuffed toy, stake out a spot in the middle of the living room floor with the stuffie clenched in her teeth, and dare another pup to try to take it from her. She seemed to relish instigating a ruckus among the dogs and then looking at Sher with an innocent "Who, me?" expression. I loved just hanging out with her, oftentimes upstairs as she gnawed on her favorite treat -a bully stick.
I am so thankful that we all had six more months with Marzi after her January illness. I'm grateful that she knew I was there with her at the end. And I feel honored that she thought of me as her girl, just as she was my girl. Marzi lived a life filled with fun and love, she was bright and sparky and joyful, bossy and silly, and just a little bit naughty, and I will love and remember her always.
Susan
Please follow and like us: