Welcome to our "K9 & Kitty Medical Miracles" Program.
We have embarked on a new way to help Senior and Special needs dogs and cats. By partnering with local Rescues who will pull a 12+ year old dog or cat from a shelter, we will provide a Grant for the necessary medical care to make that pup/cat ready for their new forever home. 
Often when a rescue group goes to a shelter, they only look for young healthy dogs or young cats, even though many people are now considering a Senior or Special needs dog or cat when looking to adopt.
Our goal is to make that first step as easy as possible.
So far, along with our Rescue partners, we have saved 25 senior or special needs dogs that had little change of adoption because of their age and medical conditions. We are hoping to have equal success with senior cats through our program

If you wish to help, please click here: K9 Medical Miracles Donate
Success Story:  Diamond, a 13 year old Shih Tzu was surrendered to a shelter and in need of rescue do to a yeast infection covering her body. Her heart is enlarged and she needed care for that and will need heart meds the rest of her life. It Takes a Village rescued her from the shelter and asked for our help with her medical care. The rescue had planned on keeping her in hospice because of her medical issues, but they found an adopter for her! She is living the high life now. Her pictures show how much love she is getting.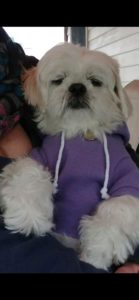 Here are a few more pups that we have saved and are being loved in their new forever home.