We love our volunteers and couldn't accomplish our mission without them!  This month's volunteer spotlight shines on Susan Yu.  Susan is our Saturday volunteer groomer. Her gentle touch has helped her form a special bond with Tammy Two Too.  Here is sweet Susan with kitty Lucky and senior pups Shorty & Amos. Susan's fur kids are just as kind as she is – Amos saved orphaned Lucky and brought her home to Susan one day.  We asked her to tell us a little bit about herself and what brought her to House with a Heart.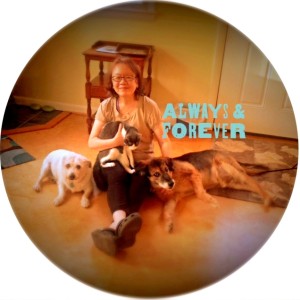 I was an animal lover as long as I remember, but growing up, we were not allowed to have a dog or cat. As an adult, I always had a dog or cat around as a companion, and always wanted more, but found it was not always practical. I came across a small blurb about an open house to be held in December 2012 by a sanctuary for senior dogs. I looked up the address and found it was about 10 minutes from my house. I pictured a dog hoarder with lots of pitiful barking dogs wanting attention, but I thought what the heck, I'll check it out.
When I drove up I was met by the volunteers directing me where to park. When I walked up the driveway and went inside I realized I had entered a magical realm, where every senior dog was loved and cared for until it was time for the rainbow bridge. The house was packed full of visitors, but Sher still managed to give me a private tour. After the open house, I knew I wanted to volunteer.
I visit every other Saturday, and find out from Sher who needs a groom or bath the most. Then I work my way through as many dogs as I can, brushing, cleaning eyes, ears and private parts. I love all the dogs and the people I work with on my Saturday, especially the amazing Sher. There is no better way to spend time on a Saturday then with my House with A Heart family, human, canine, and feline.
Thank you to Susan and all of our other volunteers for everything that you do!
Please follow and like us: