Our volunteers are the heart of our Sanctuary and we couldn't fulfill our mission without them!  This month's Volunteer Spotlight shines on Carol Y.
Carol is a do-it-all volunteer who has been volunteering with us since 2011. You may have met her adorable pups, Lacey and Dewey, who are occasional visitors at the Sanctuary. Here is a little bit about Carol in her own words. We love your enthusiastic dedication Carol!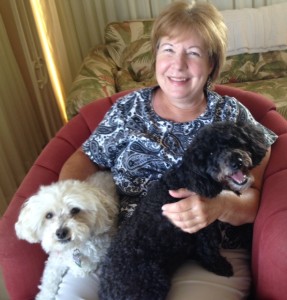 "I found House with a Heart after I adopted a 6-month-old pit bull mix and was looking for a good place to board her. A friend recommended HWAH as the place she boarded her own dog. Bella had a great experience there; I know because of her wagging tail the second time I dropped her off, indicating her eagerness to return. I continue to utilize the short-term foster care program for my two rescue pups, Lacey and Dewey.
"I have had several different "jobs" at HWAH since I began volunteering in 2011. I have done general cleaning, dog walking, and kennel assistant duties. We are currently looking into investing in a new dog walking software which will allow us to stay on top of our schedule and we will know which dog needs walking, grooming, etc. It will just make life so much easier! Currently, my official duty is grooming the pups, which includes brushing, ear and eye cleaning, wiping down their back ends, and the occasional bath, followed by treats. Sometimes I'm asked to take a resident dog or cat to a vet appointment, or pick up medication or supplies. I also give tours of the sanctuary, in part because I love to watch the reactions of first-time visitors who are always blown away by the cleanliness and quiet, both inside and outside the house. And, yes, it is a house, giving our residents all the benefits of a loving home.
"Sher's boundless energy and incredible love for her resident and visiting animals continues to amaze me. Her single-minded devotion to providing the best care possible to dogs and cats in need is inspiring. I love playing a very small part in this sanctuary for senior pets, some of whom were discarded by their human guardians when they became old or ill. Some lost their homes when their humans grew too old or ill themselves to care for them. Whatever the reason, once they come to House with a Heart, they are guaranteed to live out the rest of their lives in love and comfort. Truthfully, I think they all still give way more than they get."
Please follow and like us: