"Oh my darling, Oh my darling, Oh my darling Clementine…"
Our very own Clementine has a birthday on February 9th.  She hangs out in the kitchen in her open pen area with her pottie pads and her little hut.  She loves to snuggle inside her hidey hole and she especially loves it when her Human BFF, Rich, comes to visit.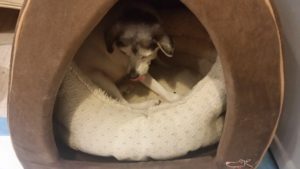 Rich is here every Saturday and carries Clemie around in his arms for 2 hours.  You can understand why she would put up a fuss when he leaves.  Several other Volunteers have stepped in to spend time with Clemie during the week.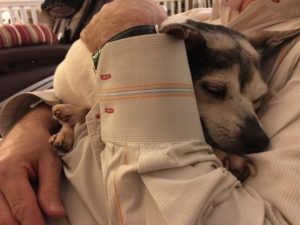 Clementine also has a doggie Best Friend – it is Jamison who now lives with his Forever Foster family, Susan and Joe and Kitty Cat, Lucky.  Jamison and Clementine were both rescued from a hoarding situation 2 years ago.  They were both taken to the County Shelter.  The shelter contacted us about Clementine and she came to stay with us here at HWAH.  
A few weeks later they approached us about having Jamison come to HWAH as well.   Even though there had been 60plus dogs rescued from horrid conditions – it was obvious that Clementine and Jamison knew and recognized each other.   In his early days at HWAH Jamison was snarky and didn't want to be bothered but he always wagged his tail and was overjoyed to be around Clementine.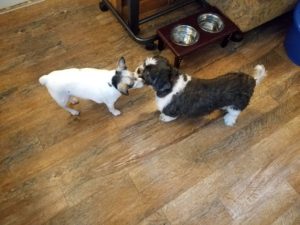 She may be blind, but her eyes have incredible depth and her heart has SUCH an incredible capacity to love. And, love she does!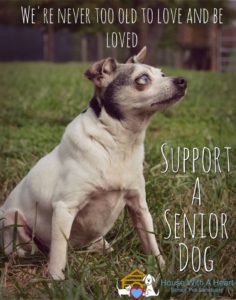 Click Here to Watch this video with Clemie under the blanket