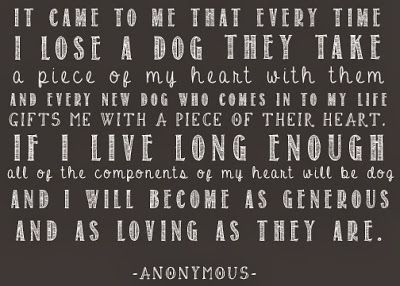 This is the story about a rescue – not specifically a senior rescue, but how a person who lost her senior dog was able to say "never say never" when she found her new forever friend.
"Here's the story about the funny looking little fur ball that changed my life.  Meet Peanut, a Chihuahua/Brussells Griffon/Terrier mix.  Found wandering the streets of South Carolina 8 years ago, "Princess 2" as she was formerly known, was placed into a high kill shelter.  Just before her days were up, a small rescue group, located in South Jersey, brought her north, along with several other 'adoptable dogs'.
At the same time, I was saying goodbye to a little 18 year-old Jack Russell, appropriately named, Russell. Small in size, with a giant personality, Russell lived a long and happy life, but age had gotten the best of him and it was Russell's time to rest.  One of the saddest days of my life, I swore I would never ever have another dog…because saying goodbye was just too much to handle.
"Never again," I said to myself through a face full of tears. Three months after making that promise, I was on my way home from the South Jersey rescue, Peanut – riding shotgun.
Peanuts Adoption Day Ride Home: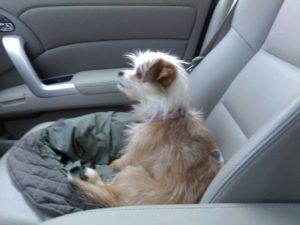 "She's not the cutest dog."
"I'm not sure she's the dog for you, she's too skittish."
These were some of the comments I got when I first brought her home. She didn't eat for days and I was petrified she was going to starve to death. She'd hide under furniture, had no idea how to walk on a leash, she'd stop dead in her tracks and freeze when she heard a man's voice and ran from all of my neighbors and friends. But I didn't care.  There was something about Peanut that said to me, "this is my dog and she's perfect!"
Through the years, Peanut has grown into quite a little personality. Completely different from that scared little rugrat from years ago. She comes to work with me every day.  Greets everyone in the morning. Joins us in every meeting.  She runs to my neighbors.  Begs for treats from everyone she meets. She likes the beach (but not the water).  She's my couch potato. My travel buddy. My sidekick.
The woman who ran the rescue said to me "a rescue dog knows you've rescued them and they'll spend the rest of their life thanking you for it." It's so true.  And every day I'm thankful for Peanut. And as Peanut and I get older and slow down…we'll do it together. And I look forward to it."
Peanut living the life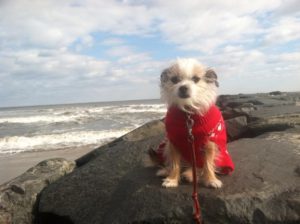 So, when your senior friend has to say goodbye, remember, the time may come for you when you can say "never say never" and bring another forever friend home with you.
Please follow and like us: