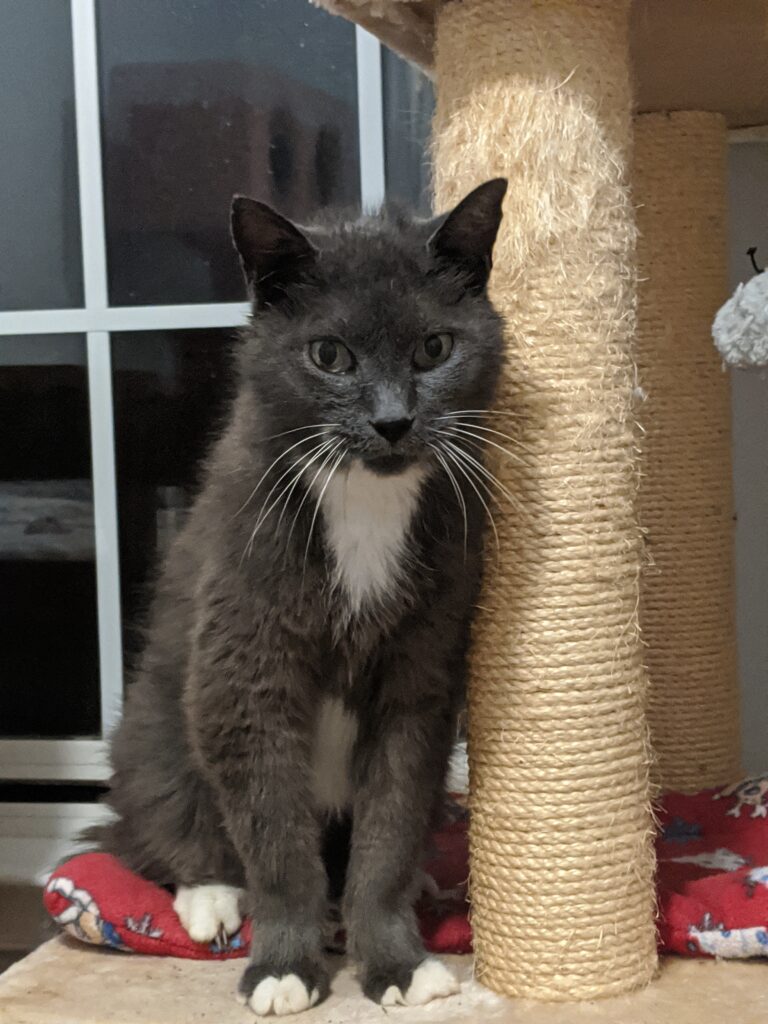 Our friends at Frederick Friends of our County Animal Shelter (FFOCAS) tell us this heart warming story about a recent rescue of not one but ten cats!
"Tuxedo is one of 10 adult and senior cats whose owner, Larry, had a medical emergency and was hospitalized. He lost everything at once — his home, his independence, his cats. Larry was ok, but would not be able to return home."
Though this nice gentleman had ensured that most of the cats were spayed/neutered and vaccinated once, he had been unable to provide any other vet care for them over the years. And his memory was affected by his medical condition, so there was very little that he could tell the folks at FFOCAS about them, such as their names, ages, temperaments, or even the total number of cats.
But Larry clearly loved these cats more than anything. When he went to the hospital, the cats were put outside with a neighbor feeding and watching out for them. With minimal information about their health and temperament, the folks at FFOCAS trapped all 10 cats, placed them in foster homes, and began getting them the vet care they needed.
The folks at FFOCAS were able to reunite Larry with one of his kitties in his new assisted living apartment. And they are making great progress in finding homes for the others. The previous owner had hoped to take Tuxedo back too — Tux was a gift (as a kitten) from a close friend. But Larry decided his new assisted living place is too small for two cats.
Many of Larry's Cats, as the folks at FFOCAS call them, needed dentals, some had ear infections, and Tux has hyperthyroidism and mild pancreatitis. But all of the kitties from this property are overall very healthy. Most strikingly, they all have an amazing temperament! All of them just love affection and being with their human. This is how we know that Larry loved them so much.
From FFOCAS:  "We didn't know what we were getting into with Larry's Cats. We worried we might not be able to provide what they needed. But now we are so glad we took them in. Working with these cats — getting them healthy, happy, and adopted — has been so very rewarding."
House with a Heart was able with YOUR help to provide a Medical Grant to help:
Tuxedo required a pretty extensive dental procedure. He actually will be going back for a second dental to remove a root left behind the first time and to either file down or remove his two lower canines, which are healthy but are digging into his upper lip. He also has hyperthyroidism (involving medication and a few blood panels to get his thyroid hormone adjusted) and needed an ultrasound to help determine the cause of occasional vomiting. But we are seeking grant funding only for the dental.
Click here to donate and read more about our K9 & Kitty Medical Miracles Fund