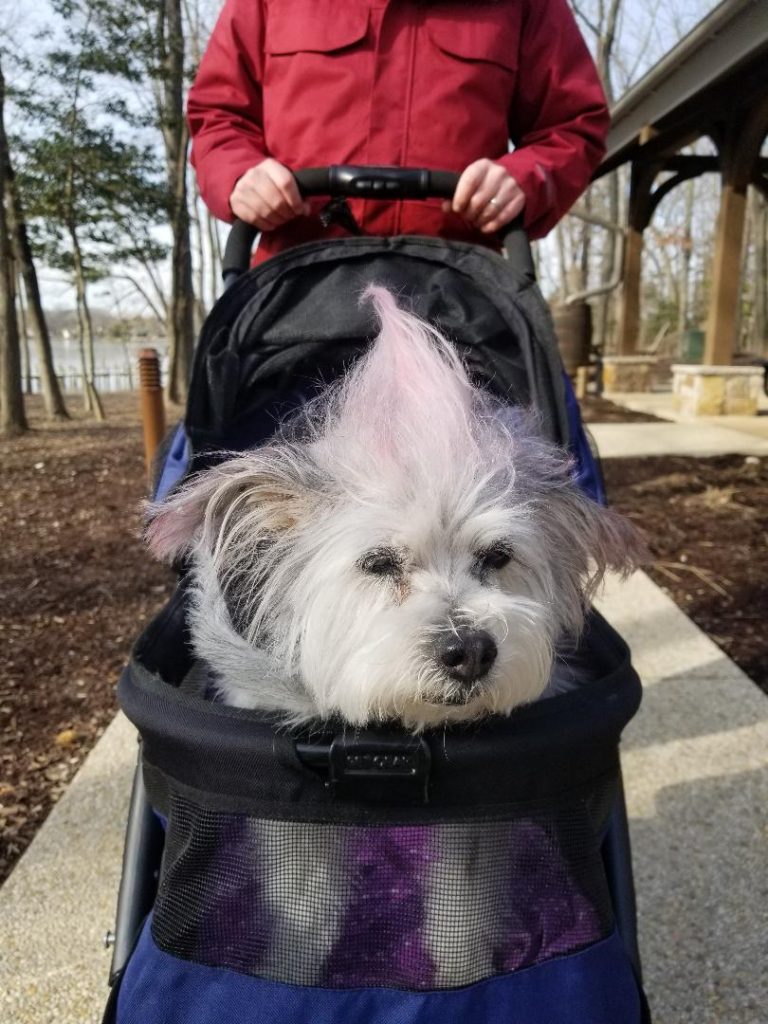 Last year we told you the story of Lady, a dog without a home:
Lady, a 10 pound 15-year-old Schnoodle was without a home when her owner died. Petconnect Rescue accepted Lady and asked HWAH to bring her into the HWAH Buster's Buddy Program as a Hospice Foster. Lady has a heart condition and digestive challenges, which were addressed with Medical Specialists and she began enjoying her life at HWAH with her pack mates and loving volunteers. We were happy being her hospice.
And then the unexpected happened: A new volunteer fell in love with her and has now adopted her. She was sooo incredibly excited to have her in her home. Lori did the home visit and they were perfect for Lady.
Today we want to share pictures of Lady in her new home with her new family.
May 2018: Just wanted to let you know that Lady is doing well. She gets physical therapy every other week and is acting like a spring chicken :0)Just figured I'd say hi and send a few pics. One is of her on our daily commute to work. The others are of her in doggles during PT…she's such a ham! She was wearing the doggles while our other dog Grace was getting her laser treatment. She didn't actually need them, but she looked so cute they took a pic…. she could care less about dressing up.We are so glad she is doing so well, and each day is a blessing! 
Nov 2018: I can't believe this weekend mark's 1 year since we took Lady in to our home. She has been a pure joy and she makes us laugh every day! Thank you again for entrusting us with her care!! Cheers, Michelle PS: here is her Halloween pic.
Feb 4, 2019: I just wanted to check in and say hi. I also wanted to let you know that Lady is still doing well. We hope you and all of your lovable seniors are well! Cheers, Michelle
Please follow and like us: