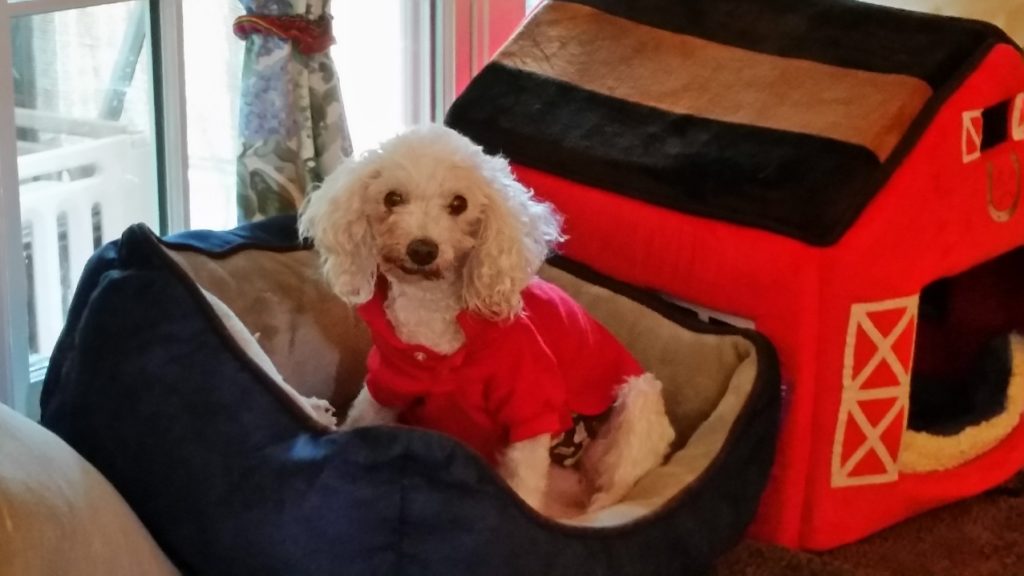 Buddy – A little white eight-pound poodle with a heart murmur and terrible teeth who is likely close to 15 years old found his way to House with a Heart!!!
One day in early May I received an email from a rescue friend, Cindy, from Mid-Atlantic Poodle Rescue.  Cindy told me about an elderly poodle who had been found in the back of a crate with some kitties who had been brought to a cat rescue in Cecil County, Md.   Since the rescue specialized in kitties and not dogs they had contacted the poodle rescue group for help.  Knowing our love of seniors, Cindy contacted us and based on what we were hearing we agreed to a Hospice care agreement with Mid-Atlantic.
We did not expect to meet an energetic senior with a charismatic personality, but that is our Buddy.  Buddy is so sweet and kind, with a calm and engaging personality.  He makes me think that at some time in his life he did know love and kindness.  It makes you wonder what happened to his person?  What occurred in Buddy's life that he was shipped north in a crate with cats???  Did his person pass away, or is someone missing him and wondering where he is now?
At first Buddy was fearful, not sure about his new home.  He would flinch and cower whenever I would reach out to him, so now I make sure that I show him my hand and talk with him before reaching out. He is slowly beginning to trust that THIS hand will not hurt him!
Buddy wants to be with me all the time.  If he is awake when I leave a room he will wait at the door or gate until I come back.  In the beginning, he would cry and bark, but now he knows I will surely return.  In time, I know he will become more confident and will be able to relax and rest or even play with his packmates even if I am not in the room.
Our Cardiologist cleared Buddy to be sedated for his Dental Surgery, so the Dental Specialist went to work on his teeth. When he was done with the surgery, poor Buddy was toothless because his mouth was so infected and worse than any the specialist had ever seen before.   It was also discovered that Buddy's jaw was fractured, so it is now being held together by a wire.  The Dental Specialist will monitor his recovery and sedate him again in six months to check on the condition of his jaw and the wiring.
Buddy will continue to live at HWAH as a Hospice Foster for Mid-Atlantic Poodle Rescue.  We will all love him and prove to him every day that LOVE LIVES HERE and he is HOME at last!
It is because of our incredible and steadfast Supporters that we can care for needy pups like Buddy.
Learn more about HWAH and our residents and programs at www.housewithaheart.com.
Please follow and like us:
Buddy