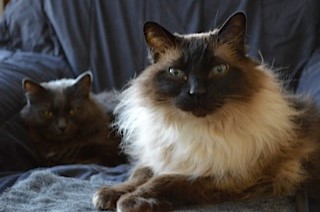 Gianni is a kitty with a sweet personality and many fans at HWAH.  He came to us years ago when a new member of his family had a terrible allergic reaction to him.  It was a sad day for his family but a happy day for our Sanctuary as Gianni added much to our kitty pack.   We were thrilled when some members of his family were able to visit with him over the years…so it turned into a win-win situation.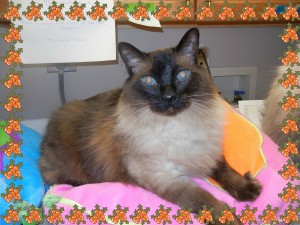 Gianni is such a stoic kitty and never was that more apparent than the day when he jumped up on a shelf to groom himself.  When he jumped down to come for his dinner we believe his leg became caught and it snapped.   I was calling him…kitty, kitty…and went to look to see what was taking him so long.  He walked slowly towards me as if there was nothing unusual about having a leg that was swinging in a circle obviously horribly broken.  All he wanted was his dinner but you can imagine I was in a panic.  It was so fortunate that our Vet, Dr. Neville just happened to be here that day.   She was able to give Gianni immediate medical attention in her mobile Vet clinic.  We hoped that his leg would heal and he would be fine, but it did not and eventually he had to lose his leg.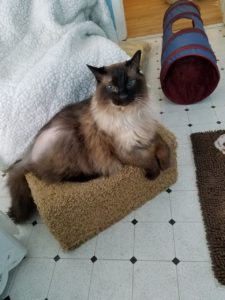 You would never know that he suffered this loss…he gets up on the kitty perches, on the bed and into any lap that is available.  He does enjoy giving kitty love nips so you have to always be ready, but he means no harm. 
Please follow and like us: