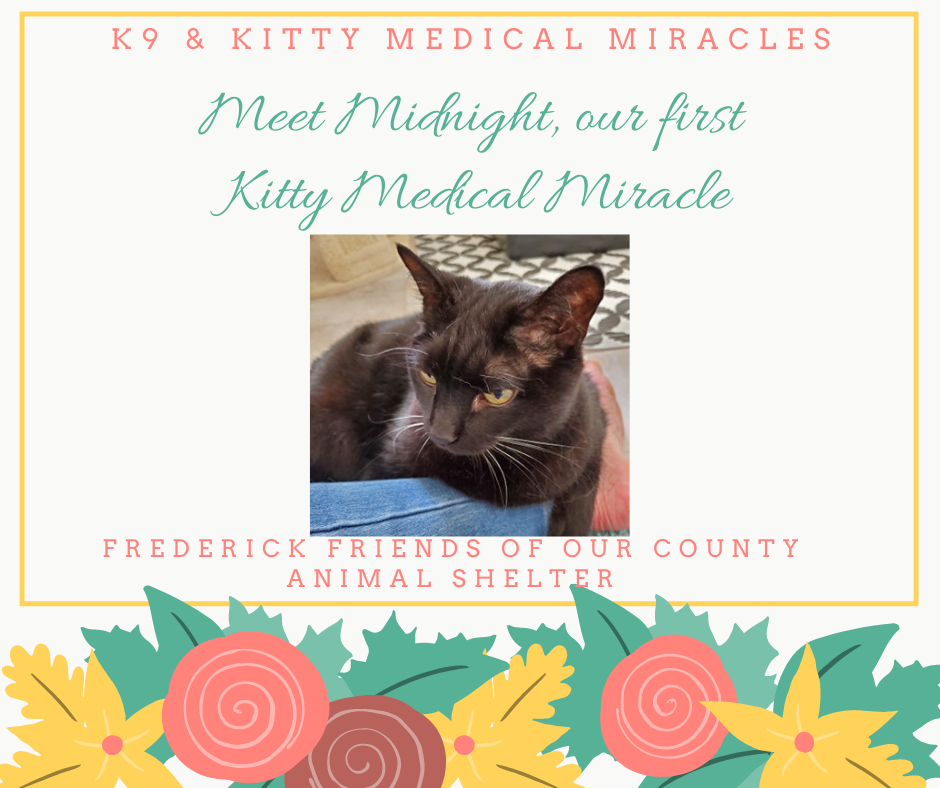 Our first Kitty Medical Miracle Grant went to care for Midnight who was rescued by Frederick Friends of Our County Animal Shelter in Frederick Maryland. 
"Midnight's elderly owner passed away and family members were very concerned about Midnight but were not able to take him in. They reached out to Rescue Well, who posted about him on Facebook, looking for a rescue as a "long shot.".   My fellow volunteer saw the post and knew I had been talking to House with a Heart so she messaged me the post. I actually told Christine Sandberg we'd take him before I'd even made sure we had a foster available — there was just something about him and his story. 
 Midnight didn't eat well for the first couple of days in his foster home. Foster mom Tammy syringed a wet food/water mix into his mouth and tried things like baby food in an effort to encourage him to eat. By the third day, he was eating and showing more of his affectionate personality. 
 We took him to our vet, who did a senior wellness exam, senior bloodwork, vaccines, microchip, and checked his coat condition (which was a bit dry) and a healing abscess on his head. The vet seemed surprised at how healthy he is. Even his teeth are in great shape! His late mom must have taken great care of him. 
 We'd only had him a couple of weeks — we hadn't even posted him online — when we heard about a woman in her 90s who has been looking for a cat for a year. She is a friend and neighbor of one of our board members. She lives with her daughter and our board member pet sits for the daughter. It sounds like other groups had been hesitant to adopt to her because of her age. But we suspect that she is just what Midnight is looking for! And with her daughter right there and our board member nearby, we know that, if anything should happen and if the daughter can't keep Midnight, we'll be the first to know and can take our boy back. Tammy says, if that happens, she will adopt him herself. (Unless I beat her to it.) 🙂 He's heading to his new home tomorrow.   Thank you again to House with a Heart for the Kitty Medical Miracle Grant – You guys are amazing!!!"