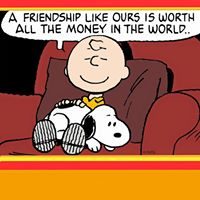 Adopting a Senior Dog
We recently asked our Facebook Family – "What would stop you from adopting or caring for a Seriously Senior Dog"? The overwhelming response was:
      Emotional Toll
      Time and Effort
      Cost
We know at HWAH, the reward of adopting a senior dog will far outweigh the challenges.  This week we want to focus on Cost…
The Cost:
It is true that Seriously Senior dogs can sometimes be costly to care for.  If they live to an older age they often have health issues.  It is common for an older dog to have dental disease, heart and eye challenges.  Pretty much whatever we face as humans, our dogs now face as well.
So, what's in store for you and your senior pet, financially?
You might choose to offer only Comfort Care for your pet and that is certainly acceptable.  A quiet, calm environment in a safe, loving home could mean the world to a senior pet.  It's important to stay in contact with your Vet, and at the very least, have 6 month or annual checkups to monitor medications and to make sure your dog is comfortable and not in any pain.
You may choose to be more aggressive in the care you give your senior dog, having dental and cardiology check-ups, and annual eye exams in addition to an annual Geriatric exam.
To help with the financial challenges any pet owner faces, there are several companies that offer Pet Insurance for Senior dogs, here are a few. It's important to do your research to find the plan that's right for you and your pet:
Employer-sponsored benefits for the family pet is part of the fastest growing trend in veterinary medicine, with some 5,000 companies now offering pet insurance.  Check with your employer.  If they don't offer it now, ask if it's something they might consider in the future.
Another option is to purchase a discount pet plan from a company like Pet Assure.  Pet Assure pays 25% of any vet bill. Then work out a savings plan and put additional money into an account for your pet each month.
Here's a great article from Gray Pooch with some really helpful advice on shopping for and purchasing senior pet insurance.  http://www.graypooch.com/pet-insurance-for-older-dogs.html
Please follow and like us: