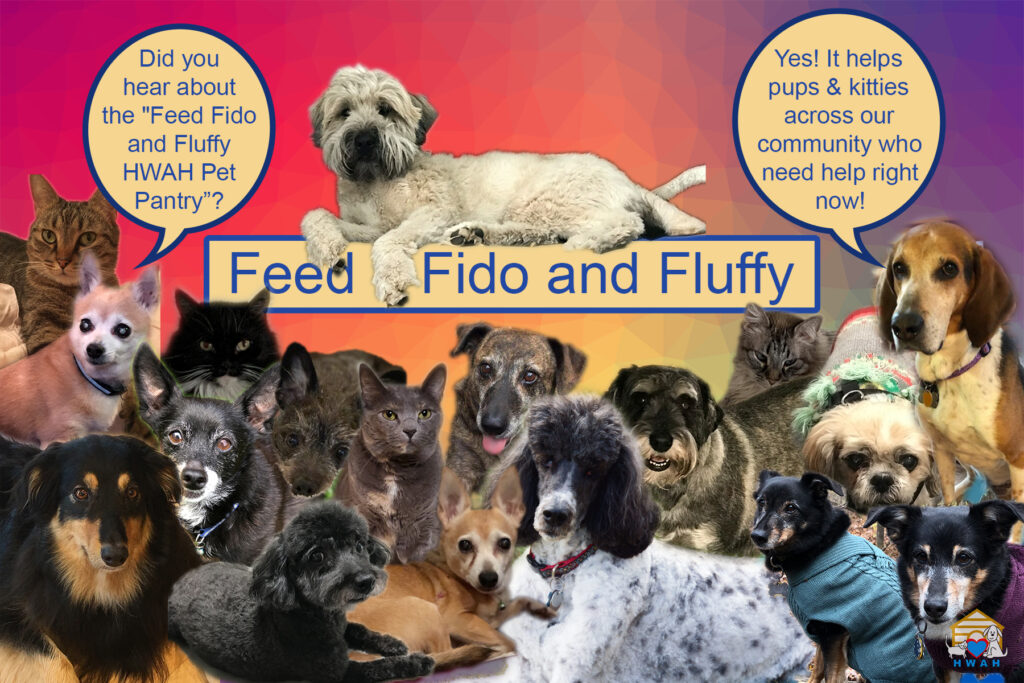 Just recently, we were so humbled by the generosity of our friends and followers when we said we needed Potty Pads and Baby Wipes.  Thanks to so many of you we are all set for the next little while.   Your quick and generous response led us to believe that with your assistance we'll be able to help families feed their pets during this difficult time and beyond.
And so the "Feed Fido and Fluffy" HWAH Pet Pantry was born!
We started looking for organizations in our area that are already delivering groceries to shut-ins and families in need to see if we could add a pet food option to their delivery.  We're thrilled to report that we have found several organizations that we can partner with and I'm sure as we continue to search, we'll find more.
How can you help? (We know these are extraordinary times so only donate if you feel like you can).

We've chosen Purina Pro Plan as a dog and cat food that is easily digested and (Made in the USA).  Any food that you find that is for sensitive tummies or easily digested should be a safe brand to provide for the Pantry.  We'd love to have both kibble and canned food for dogs and for kitties too.  We can not accept open bags.

We're accepting donations at the Sanctuary (email HWAHSher@gmail.com for drop off instructions/times), have it shipped directly (Feed Fido & Fluffy c/o 6409 Stream Valley Way, Gaithersburg, MD 20882).
Click here to donate and we will purchase food on your behalf. (Again, We know these are extraordinary times so only donate if you feel like you can).

Here is the link to go to our Amazon wish list for Feed Fido & Fluffy. We have included some suggested Purina Pro Plan products. We also linked some products that can be bought from Chewy.com on the Wish List. Other suggested brands – Rachael Ray Nutrish, and Nature's Recipe.

Please stay tuned for updates about the program and for Shout Outs to the donors and organizations we will be working with.  As we add more partners to our program we'll share their stories of kindness and caring with you.
"Thanks to our Treasurer, Jacquie for the idea – I'm thrilled to be a part of this project and my heart is full to overflowing at the prospect of continuing to live up to our mottoes – "Love Lives Here" and "Kindness Counts".  XXOO Sher