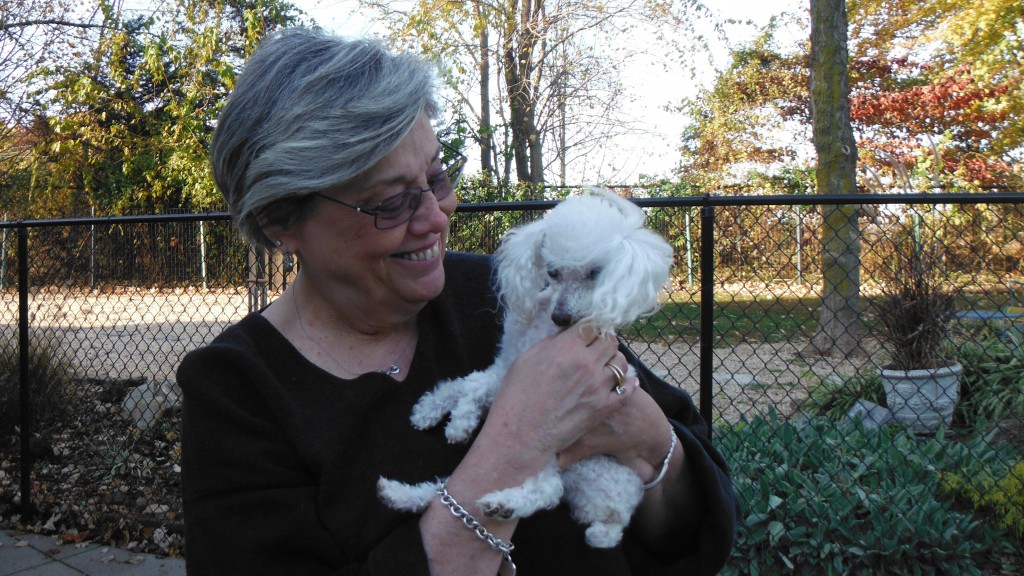 Faith was a tiny little poodle that came to HWAH from Caroline County Humane Society.  She had been found in a ditch and was extremely emaciated and in very poor condition.  We were fearful at first that she wouldn't survive her terrible ordeal but after several weeks, mostly sleeping and eating, she rallied.
 This adorable girl was blind and her back is curved as a result of arthritis, but she scampered about and was able to find her way around the yard. 
 We cannot mention Faith without mentioning Harriette who loved her so very much and Faith ADORED Harriette. Faith was the tiniest of poodles but with so much heart and love to share, and Harriette made her heart sing whenever she arrived at the Sanctuary.  Faith would cry and carry on until she was able to cuddle into Mama Harriette's arms. 
Our little girl was about 18 years old, but you'd never know that she's was lady of advanced age.  She was an extremely puppy-like flufferbutt and brought us much joy.
Goodbye, Faith  February 13, 2014
"It is with a very heavy heart that I must tell you that we lost our Faith on Thursday, February 13th. We were told that her labored breathing was not improving in the oxygen enclosure and no medications had had an effect on her condition, which the doctors could not definitively diagnose.  Her doctor felt it was time to let our sweet girl go.
From the day she came to her forever home at the Sanctuary, Faith won our hearts. This tiny, fragile, and adorable poodle displayed a will to survive her many health issues. I was so very blessed to have her choose me as her special person. Whenever I arrived at HWAH, my otherwise silent girl would instantly raise her head, sense my presence, and start crying and yelling, until I picked her up and cradled her in my arms. We would sit for hours, just cuddling, content to be close to each other.
I want to thank my husband, Bob, for working so hard to dig us out from the snowstorm so that I could be with Faith at the end. Pat, my appreciation for being on standby should I have needed you to meet me at the hospital. Faith left this world in the arms of her Mama Harriette, to join so many others over the Bridge. But I know we'll be together again someday. Until then, my little love, you hold a special place in my heart".
Please follow and like us: