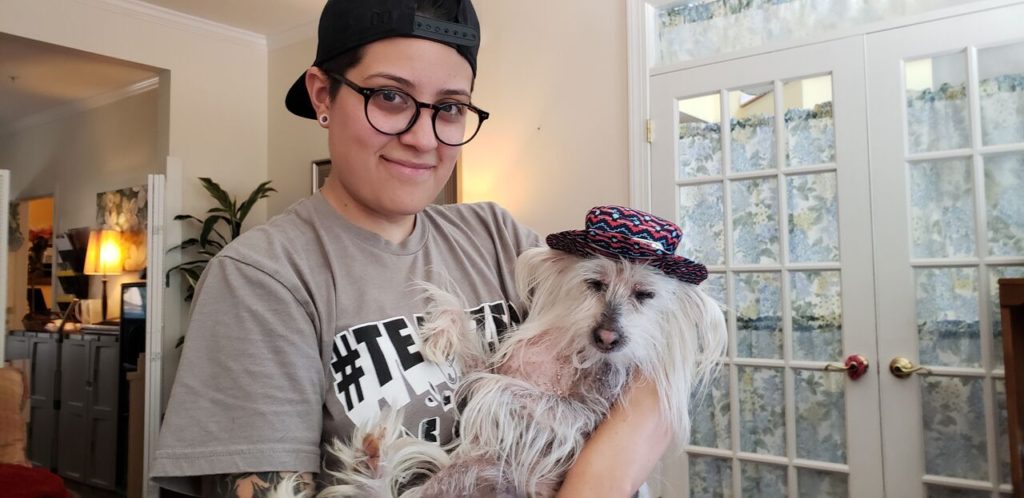 Emily is definitely one of our HWAH Angels!!  She is an important part of our Core Team and wears many hats!
 Emily works with our Short Term Care visitors in the Kennel, getting to the Sanctuary early in the morning Monday through Friday to let the pups out and give them their breakfast.   This has been a real blessing for Sher so she can concentrate on the residents.
Emily gets every resident and visiting pup out for an early afternoon playtime whenever the weather allows.   This is in addition to their regular potty breaks throughout the day.   The dogs go out in playgroups or individually, whichever is best for them.
 All of the dogs, both residents and visitors, who are willing, get a regular spa treatment with Emily.  She brushes them, cleans eyes, ears and even backends and generally makes each of them feel special and loved.
Emily has been key recently in getting Piper to the Vet and the Surgeon and helping with Piper's rehabilitation during her recent crisis with IVDD and subsequent surgery.   Emily has added Medical Transporter to her list of duties, filling in for Frances when needed.
 AND…. We cannot forget that Emily is an incredible Photographer, taking lots of photos of the residents and visiting pups.   Her work can be seen in our first HWAH Book, Tongues and Tales..   Emily is also a talented musician and singer, songwriter and has done several YouTube videos over the years, https://www.youtube.com/user/bigem3889. But most recently she has focused her talents on her biggest passion, loving and caring for senior dogs.
And, to round things out, she is a Forever Foster Mom to Spike! (shown above with Spike)

 We are so grateful that Emily is part of our HWAH TEAM!!!
Please follow and like us: