WOWZER – Chris has really stepped up and taken the bull by the horns.  She has been working as our General Manager of Daily Operations for the past few weeks—wooohooo fancy title for "working your butt off"…
 Chris has filled in for all of the shifts when people have not been able to work and she has been training new folks for the Kennel and afternoon shifts so that they not only do the kennel but they are taking care of the Playroom doggies and if they have time on their hands they come upstairs and do some tasks and even the outside tasks.
 She is training to do the kennel most of the time and she is down there, outside, upstairs and is totally in her element and is a HUGE help!!!!!
 Chris is handling all the door bell rings and the arrivals and pickups – so now SHE is the one running in circles in my place and I am SO INCREDIBLY grateful.  I think Chris has found her niche!!!! 
 THANK YOU!!!!!!!!!!!!!!!!!!!
 Sher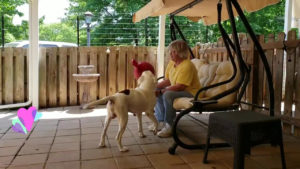 Please follow and like us: