We are so endlessly grateful for our volunteers and we couldn't accomplish our mission without them!  We like to shine the Volunteer Spotlight on different individuals in order to share how they came to volunteer with the Sanctuary and what they enjoy about their work.  This spotlight is on Robin Gurley, a dedicated and amazing Monday volunteer!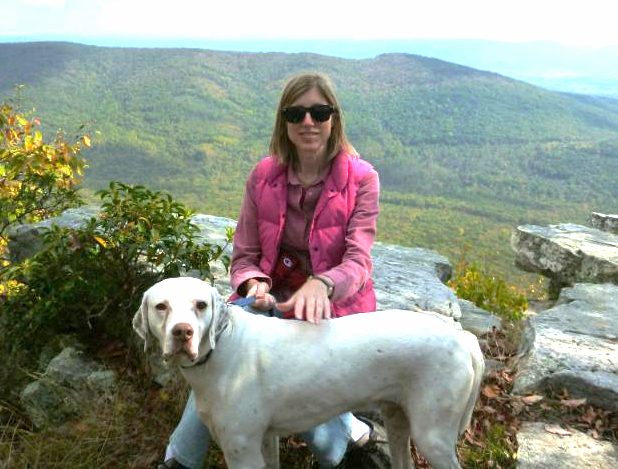 Robin is a Monday volunteer who has been volunteering with HWAH since November 2014.
A lifelong animal lover, she had recently reduced her hours working as an editor for a research organization and was looking for volunteer work with an animal rescue  organization or shelter. She had previously  volunteered at the Montgomery County Humane Society in Rockville several years ago as a dog walker  and transporter, and was planning to contact them about coming back.
That is, until her friend Cecilia  told her about HWAH, where she often boarded her dog Dusty. "Cecilia encouraged me to visit and see what HWAH was all about. So, I contacted Sher and set up a  time to tour the facility. What I saw astounded me.
"I couldn't believe how cozy, homey, clean, and calm  the house was and how happy the dogs seemed. I really had never seen anything like it. Sher has  devoted her life to taking care of dogs that society would have thrown away. She is passionate about and devoted to taking care of the needs of these dogs until the very end.
"I visit HWAH every other Monday and take care of the outside duties, which include LOTS of poop  scooping, as well as emptying trash, cleaning and setting up the poop scoop stations, scrubbing and  hosing down the patios, and anything else Sher would like me to do.
"Although it can be a little nippy in  the winter (and sticky in the summer), I enjoy being outdoors doing physical work; it's a nice change  from the days I spend inside in front of my computer. I hope that the small part that I play in the  amazing work that Sher does helps make things a little easier for her. From her appreciative words of  thanks every time I leave, I think it does."
Please follow and like us: