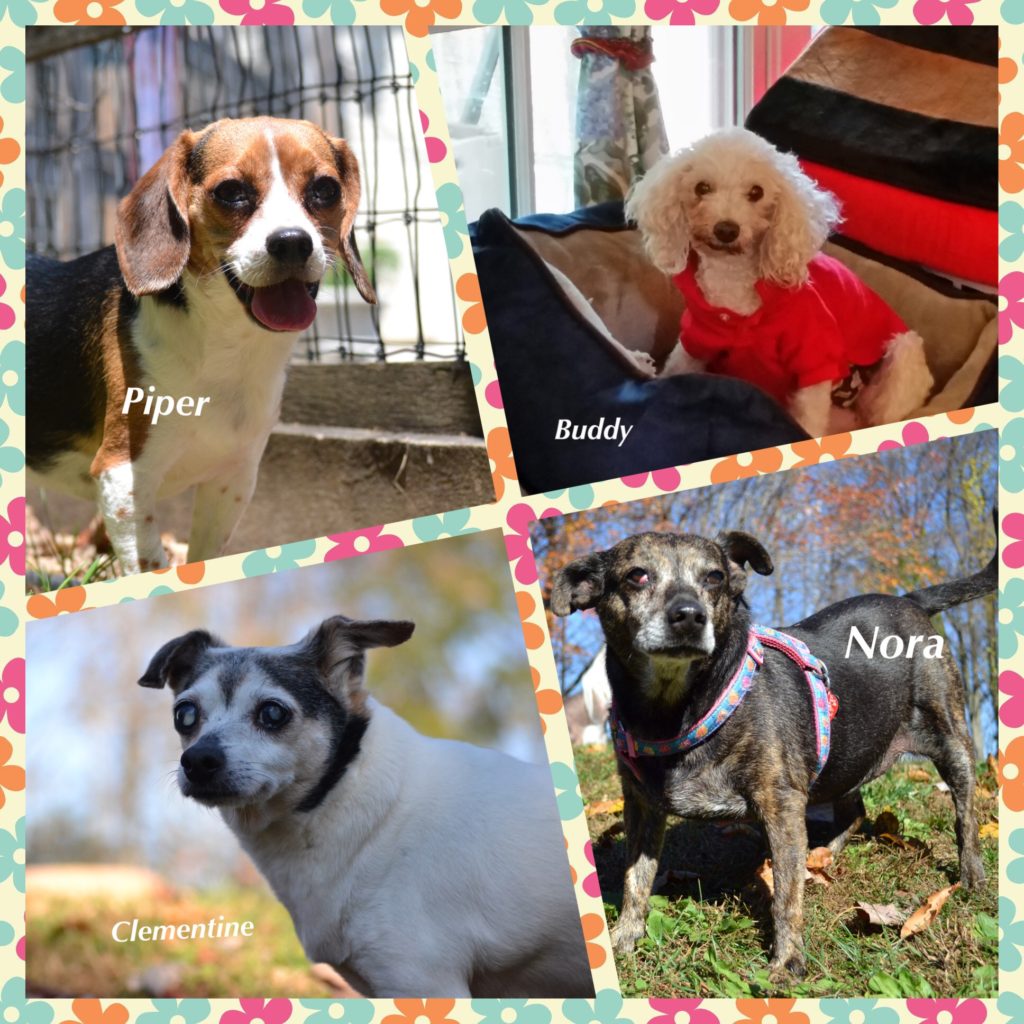 House with a Heart established the Buster's Buddies program to help other Rescue Groups by providing a temporary home for dogs who are waiting for their forever home.  These dogs are not HWAH residents — they still belong to the original Rescue Group.  They are given the same love and care as the HWAH residents while their Rescue Group continues to advocate for their adoption.
Piper came to us at 6 months old in poor health. She was 6.5 lbs, anemic, lethargic and multiple organs were enlarged. Her Owner brought her to us as a hospice case. But that was not to be. She thrived in our environment and is now 2 years old and is full of life! Monroe is her BFF and they play until they drop. We love our baby Piper.
Nora lived outdoors on a chain for 9+ years. She is a resilient dog who is the sweetest human loving dog. We are fostering her for Pet Connect. She loves and respects other dogs and cats. She loves attention, and we make sure she gets it after all she's been through.
Clementine was one of 66 dogs seized from a woman who claimed to be running a rescue. She is 16 years old with many health issues, so we keep her as comfortable as possible. Her BFF is our very own VP. He comes to visit her often and she can always tell he's coming. We look forward to loving her for the rest of her days.
Buddy was packed in a crate full of cats and transported from North Carolina to a Baltimore Cat Rescue. Imagine their surprise when out came a 17 year old scared poodle! They called a poodle rescue, who then called us. When we picked him up, he was in horrible condition. Broken jaw, fleas, matted, bad heart. He was scared at first, but then realized we were there to save him. He loves every dog and human he meets. He stole the hearts of everyone! We decided he was too fragile and wanted him to spend the rest of his years with us. Buddy will continue to live at HWAH as a Hospice Foster for Mid-Atlantic Poodle Rescue. We will all love him and prove to him every day that LOVE LIVES HERE and he is HOME at last!
If you want to support our Buster's Buddies program, Click here to support Buster's Buddies