House with a Heart established the Buster's Buddies program to help other Rescue Groups by providing a home for dogs who are waiting for their forever home or a Forever Foster.  These dogs are not HWAH residents — they still belong to the original Rescue Group.  They are given the same love and care as the HWAH residents.

Dixie and Marlie have lived their entire lives in a local community of Sisters, however, the Sisters have been relocated, all but one to nursing homes. So they were unable to keep their beloved pups  We were glad to welcome them to HWAH.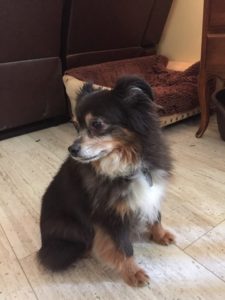 Dixie (on the right) is a 12-year-old spayed female Rat Terrier. She is friendly and incredibly loving!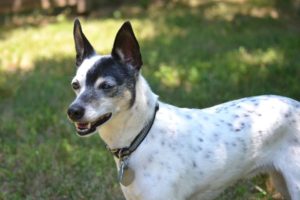 Her companion, Marlie (on the left), is an 11-year-old neutered male toy Australian Shepherd. He is a very dedicated, affectionate, faithful and loving boy.
Tinker is a petite black and tan, 7 pound, 15 year old chihuahua.  She is timid and thoughtful.  Tinker does enjoy being held and petted but is also cautious with new people.  Once she knows she can trust you she quickly adapts and enjoys interacting.  Her nick name is "Tinker-the-Stinker" – not because she smells, but because she is quick to let you know what she wants!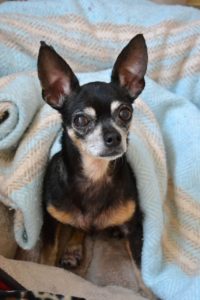 Casey, (on the left) a spayed 16 year old miniature pinscher. Casey may be a little grey around the muzzle and in need of a little extra TLC, but doesn't every dog deserve that when they get to be her age?  She loves to play peek-a-boo with her blankie. She comes out to say hello when she hears you come near.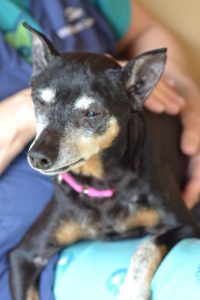 And Wrigley, (below) another senior pup who, through no fault of his own, ended up in the shelter.  Wrigley is 15 years old and is Casey's son.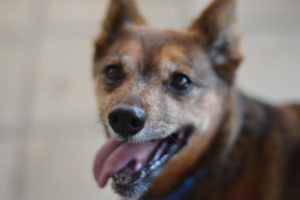 Coco's Owner had to give her up as she was no longer able to give her the care she needed.  Coco was suffering greatly and in pain with dental disease, bladder stones and tumors on the back of her legs and skin allergies.  Coco has gone through bladder surgery and had her tumors removed.  Now after surgery we are gaining her trust.  You can imagine that she had to be in a lot of pain for a long time so she is hesitant to be picked up but once she trusts you she really enjoys lap time and brushing. "She is mean as a snake fighting a mongoose……..  I am the only one who can actually pick her up, but other volunteers are working to gain her trust as well" says Sher our Director…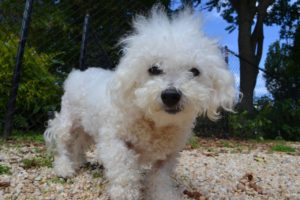 If you want to support our Buster's Buddies program, Click here to support Buster's Buddies